News & Press Releases
PRESS RELEASE: Cheil Industries speeds up New Growth Strategy through Next-Generation Display Material

Seoul, South Korea, 22nd Oct 2013
Novaled Inauguration in Dresden, Germany, Successful Conclusion of the Largest M&A in Electronic Materials
Investment Funding Enables to Focus on Material Business
Platform for World's Leading Company in Electronic Material Business
Cheil Industries took a big step towards professional Electronic material company along with Novaled, holding core-technology of OLED.

Cheil Industries said on 20th that 'Novaled Inauguration' has been successfully concluded in Dresden, Germany attended by more than 100 associates from both companies including Park, Jong Woo, President of Cheil Industries and Gildas Sorin, Novaled CEO.
Novaled has been officially launched by investing KRW345.5Billion of Acquisition Payment, which shall be recorded as the largest domestic M&A in electronic material field.

Cheil Industries is accelerating future strategy to make a new leap as material-specialized company by launching Novaled in one month since the transfer decision of fashion business to Everland at the end of last month.

Novaled holds the original technology of next-generation material to reshape the future display market thus it is anticipated to become an important foothold for the growth of Global Top-Tier Player in Material sector like BASF or Merck of Germany.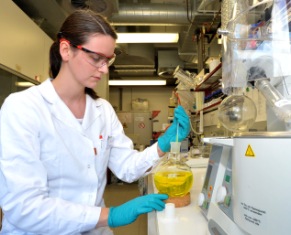 It is more significant that the next-generation display material technology of Novaled is ready to lead the entire market of components & material as well as the set filed where Korean companies have exceptional strengths.
Consisting of more than 60% of R&D personnel with Master's or Doctor's degree, Novaled is proud of the best human infrastructure even in Material Powerhouse of Germany. With more than 530 patent applications filed, Novaled has established the unique global position in dopant technology to maximize the efficiency by improving performance and reducing the floors of common layer material of OLED.
The OLED materials technology of Novaled are expected to create large synergies by combining production and synthesis capabilities of Cheil Industries, are also expected to assist in fostering strategic materials of Cheil with a wide range of competitiveness in electronic materials sector such as light material, solar cell material or electrode materials as well as OLED display material.

Cheil Industries is highly appreciated to have prepared the basis for long-term profit growth structure by acquisition of Novaled as well as to approach the strategic goal to become the world's first materials company.

The rapid growth of OLED market spotlighted as the next-generation material of LCD is expected to have a positive impact on business performance right from next year.

Cheil Industries has successfully applied the Cheil-produced OLED materials of ETL to the latest mobile phone models such as Samsung'Galaxy S4' and 'Galaxy Note 3' in April this year. Cheil Industries has devoted to the development of next-generation display materials of OLED since 2005.

According to the recent report by Display Research, a display market research company, OLED has shown rapid growth of annual 100% in recent 3 years and is expected to quickly expand the market in the future by 2020 other than LCD whose annual growth rate has dropped to one digit.

The industry authorities are expecting that it is only a matter of time to establish its position as the next-generation display owing to the excellent advantages of response speed 1,000 times faster than LCD, free angles, power-saving and color reproducibility although OLED materials are not widely used yet in general electronic products such as TV, tablet or PCs.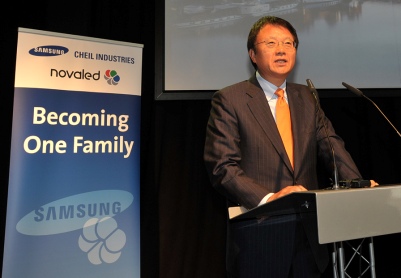 President Park, Jong Woo celebrated that Cheil Industries and Novaled became a new family and said 'The OLED technology of Novaled shall play a vital role in advanced materials business of Cheil Industries' and added 'Cheil Industries will fully invest and support for product development to lead global trends'.
22/10/2013