OLED Display
OLED has established a foothold in the mobile phone market - in particular, the smartphone segment - by meeting the demand for touch-sensitive operation, thin form factor, low power consumption and higher resolution. AMOLED displays are featured in flagship products from leading handset producers and are delivering competitive advantages compared to LCD technologies. With the cost gap to LCD-based displays closing, AMOLED displays are expected to become an established display technology in mobile phones.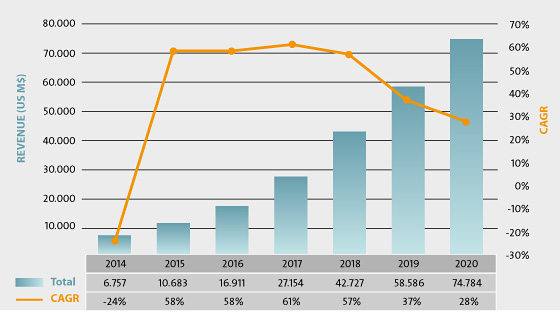 Source UBI Research 2014: AMOLED Display Revenues
Through tablet computer applications, AMOLED displays also are penetrating the medium-size display markets, and they will become available in up to 77-inch TV screen applications soon.

OLED displays have many outstanding characteristics, including very saturated colors, a wide viewing angle, low power consumption, and an extremely thin form factor. The contrast ratio is much higher than for LCD, and it makes the colors look even more brilliant. OLED response time is in microseconds, compared to milliseconds for LCDs; it allows for very crisp picture motion quality and makes OLED technology very attractive for 3D applications.

Another exciting advantage of OLED displays is their potential to be truly flexible – that is, they can be bent and twisted without breaking. The market for flexible AMOLED displays is forecast to become a segment of $10 billion USD 2020, according to the IHS 2013 report. Already the first bendable OLED displays have entered the market. Exciting new applications and further display products that allow repeated bending around sharp edges are expected.