Novaled® Materials
OLEDs consist of several functional layers, such as charge transport layers and the emissive layer. Novaled is developing numerous materials for non-emissive layers, including dopant, transport and interlayer materials.

In addition to offering traditional vacuum depositioned materials, Novaled also supports innovative developments such as solution-based HTL inks for coating processes, and water-free HIL with appropriate fitting materials. Novaled's proprietary materials are suitable for a variety of applications leading to high-performance devices
Novaled products lead to very durable and power-saving OLEDs. Novaled's unique approach uses dopant materials to increase the conductivity of the charge transport layers.
Additional advantages:
Highest power efficiency
Low and stable operating voltage
Easy stack integration and tool implementation
Long lifetime
Top-emission structure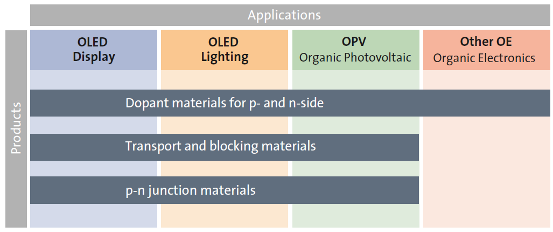 Novaled materials are designed to deliver customer benefits not just in a lab environment, but also for mass-produced devices where process compatibility is a prerequisite. Accordingly, Novaled ensures its materials are fully compliant with international industry requirements (e.g., Restriction of Hazardous Substances Directive, halogen-free according to IEC 61249-2-21).