Expertise for Technology Implementation
Knowing how to put knowledge into practice

The success of a new technology depends on how well and how fast expertise is put into practice. Therefore, Novaled offers its comprehensive OLED doping technology that enables partners and manufacturers to join the promising field of OLEDs for display, lighting and other organic electronics.

Novaled's core skills – device physics, synthetic chemistry and process engineering are cross-linked to ensure a deep understanding of all aspects of OLEDs: optical properties, stack architecture, degradation mechanisms (chemical and physical), device processing, and doping and transport materials.

Users of Novaled's technology benefit from the company's expertise in creating high-performance devices, reducing time to market and decreasing manufacturing cost. Novaled's depth of knowledge spans material engineering, process development and OLED manufacturing. With its state-of-the-art tools, equipment and infrastructure, Novaled is experienced in all relevant processes. Manufacturers gain quick access to its front-end and back-end OLED processing expertise.

Understanding that each customer has different goals and strategies, Novaled customizes its technology implementation services for each specific request and need.
OLED Technology Licensing – Novaled's PIN OLED Technology
Due to its intensive research and development efforts, Novaled has more than 500 patents granted or pending worldwide. By licensing Novaled's cutting-edge proprietary OLED technology, customers can enhance their product performance.

Using Novaled's OLED technology they gain quick access to:
Novaled materials, including Novaled doping and outcoupling technology
OLED processing expertise
Optimization for high efficiency and long-lifetime OLEDs
Information on OLED display, lighting and other organic electronic applications
Novaled's IP portfolio covers many key areas such as: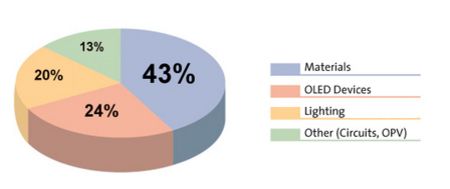 In addition, Novaled's IP Portfolio covers:
Optical outcoupling technology
OLED lighting technology
Transparent OLEDs
Cold and warm white light OLEDs for displays and lighting
Organic electronic circuits and devices