Value Creation
Novaled brings together three key disciplines in the field of organic electronics:
organic chemistry: discovery, testing and scaling of organic electronic material
device physics: development of OLED technology and devices
manufacturing: processes for the testing and development of materials and devices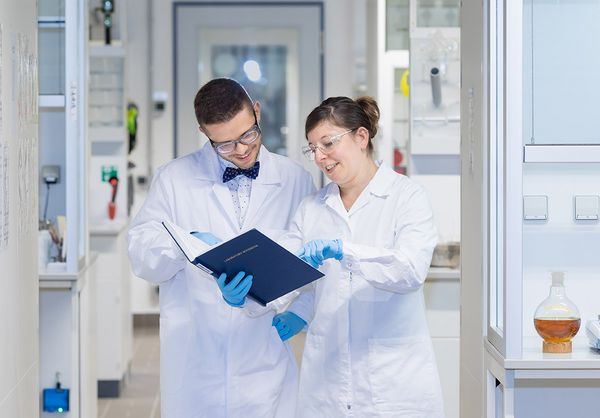 Organic Chemistry
Novaled carries out fundamental research on new organic molecules and materials to improve device efficiency. The research spectrum includes hosts, dopants and further materials. The process of creating speciality chemistry materials spans synthesis, purification and characterization stages. Novaled provides required materials within the shortest industry lead times, whether they are small quantities for R&D and pilot testing or volume amounts for large-scale production. To succeed in that mission, Novaled built a comprehensive network of custom manufacturers that covers the complete range of chemical processes.
Device Physics
Novaled's processes for material performance validation and process integration have been tried and tested by industry-leading companies. Novaled has pioneered some of the leading and most innovative device structures in OLED display and lighting. Our proprietary Novaled® PIN OLED technology helps manufacturers produce high-efficiency and low-energy OLED devices.
Engineering and Manufacturing
Novaled is experienced in all relevant processes for OLED development and manufacturing. Its cross-functional teams of OLED experts use state-of-the-art equipment and infrastructure for stack development and for organic material characterization. Customers benefit from the practical and technical expertise that the team has gained in working with more than 1,000 different organic and metal materials in processing and testing OLEDs - with a special focus on mass-production compatibility.
Chemistry, Physics and Engineering
Uniquely Combined