Novaled Materials for Outstanding Displays
With its expertise and innovative products, Novaled is the ideal partner for AMOLED display manufacturers tackling production challenges. Using Novaled technology and materials enables them to overcome a common dilemma and achieve both high efficiency and long lifetime of OLED devices.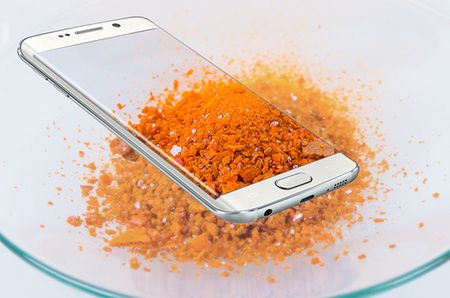 Novaled materials offer OLED display customers a wide range of benefits
Extended battery life.
By reducing the operating voltage. Novaled's p-dopants improve the charge-carrier injection and increase the conductivity in transport layers.
By increasing the device efficiency. The right combination of transport materials from Novaled's portfolio allows users to optimize the charge-carrier balance.
Improved product lifetime.
By using Novaled's proprietary electron-transport materials that feature some of the longest lifetimes in the industry.
By enabling top-emission architecture, Novaled's dopants work on a large number of electrode materials without any performance change. Top-emission OLEDs have a higher emission aperture in mobile applications, reducing the driving current for each OLED pixel and thus enhancing the device lifetime.

Decreased production costs.
By reducing device performance fluctuations. Novaled's p-dopants stabilize the interface to the anode. As a result, process fluctuations have no impact on device performance.
By increasing the production yield. Novaled's p-dopants allow for thick transport layers without a voltage increase. These thick transport layers reduce the likelihood of pixel current leakage and therefore improve yield.
For RGBW displays, Novaled offers additional materials that also can be used for lighting applications.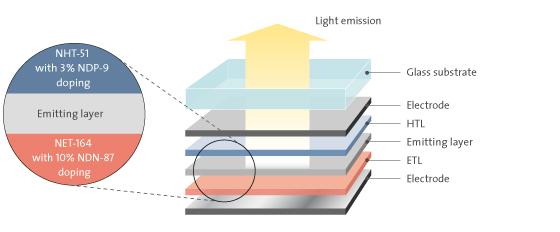 Material set for high-performance OLED stacks for display
Novaled solves customers' dilemma