News & Press Releases
R2D2 completed: OLED tail lights for first time in volume produced Audi cars
R2D2, a joint project to analyze and to develop high-TRL processes and technologies for manufacturing of flexible OLEDs funded by the German Federal Ministry of Education and Research (BMBF) has been successfully completed. The goal was to work on OLED technology for reasonable priced OLEDs which could easily be employed to manufacture marketable products.
Meanwhile, AUDI AG is offering glass-based OLEDs in a high-volume production model for the first time as the tail lights for the TT RS. The transition to a production-ready OLED product has been achieved through the advances from the R2D2 project. "The R2D2 Project funded by BMBF has brought OLED technology in Germany a good deal further. Sectors beyond lighting and Automotive will follow suit. There are already prospective designs for household appliances and even for aircraft over the long term," says Project Coordinator Dr May of Fraunhofer FEP. Besides FEP, also AUDI AG, Diehl Aerospace GmbH, HELLA KGaA Hueck & Co., OSRAM OLED GmbH, VON ARDENNE GmbH and Novaled were consortium partners.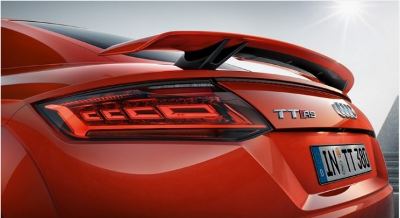 Novaled was able to optimize the OLED layers and to develop and provide a set of materials to meet the challenging specifications of the automotive industry. Cost-effective solutions were devised. This included providing mass production stable materials for easy and efficient employment in mass production, as well as saving development time by generating methods that can ascertain the compatibility of new organic materials with manufacturing processes.
One of the success factors of R2D2 was that project partners could cover the whole value chain: from material research to equipment construction, component technology through application studies for future products.
The consortium would like to thank the German Federal Ministry of Education and Research (BMBF) for funding the project "R2D2" with a grant of 5.9 million Euros over a 30-month period.
16/06/2016